LT

Your shopping cart is empty.
Welcome to BIKKO International bicycle internet shop
Please select your country of residence
You can change the selection afterwards in the top right corner.
Please note: if you are from Estonia, Finland, Latvia, or Lithuania you will be redirected to local dedicated bicycle internet shop.
Bicycle preparation options
Description - Bike computer Sigma BC 5.0 WR
Wired Sigma BC 5.0 offers all of your basic cycling functions. A large display packed into a sporty design makes it an essential companion for every ride. Despite the compact format, the bike computer's display is large and therefore easy to read with multiple functions displayed as symbols or icons. The large button makes switching among the data quick and easy, even while riding.Computer has the following main functions:Speed (kmh/mph)Trip distanceTotal distanceRide timeClock (12/24h)Additional features:Displays functions using icons Predefined tire sizesRide time upto 100 hAdjustable scan modeAutomatic start/stopWatertight in accordance with IPX8Easy tool-free mountingCompatible with the docking station (not included)Package includes: Wired cycling computer Sigma BC 5.0, wired CR2032 monitor mounting bracket with Speed sensor, magnet, two mounting O-rings (Ø 35mm, 45mm) , manual.Device/display size (height x width x depth): N/ADisplay size: N/A
Product Details
Product name

Bike computer Sigma BC 5.0 WR

Product code

COMP301

Manufacturer

Barcode

4016224052103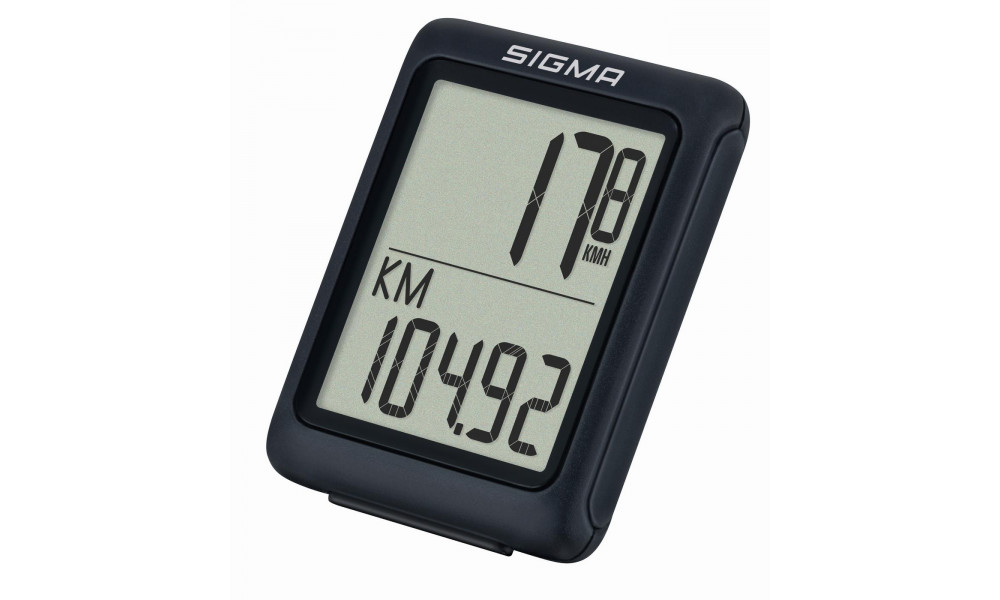 Cookies
In order to ensure the quality of your browsing, this website uses cookies for statistical and marketing purposes . By clicking the "Accept" button or continuing to browse, you confirm your consent to the saving of cookies. You can withdraw your consent at any time by changing your internet browser settings and deleting saved cookies. More information
Targeted cookies
Third party cookies used for analytics purposes.
Also, these cookies are used to present customized advertisements to you. They limit ads so that you only see them a certain number of times and help us measure the effectiveness of our advertising campaigns.
Functionality cookies (essential)
Necessary for browsing the website and using its functions.
Improve your browsing experience by remembering previously made settings and choices.