LT

Your shopping cart is empty.
Welcome to BIKKO International bicycle internet shop
Please select your country of residence
You can change the selection afterwards in the top right corner.
Please note: if you are from Estonia, Finland, Latvia, or Lithuania you will be redirected to local dedicated bicycle internet shop.
Bicycle preparation options
Cycling shoes FIZIK Terra Atlas pink grape-black
Description - Cycling shoes FIZIK Terra Atlas pink grape-black
Fizik- no matter whether you challenge yourself or other riders, or whether you're a pro-rider or an amateur, if you're searching for the most beautiful and best performing cycling gear, fizik is the answer.
OFF-ROAD — Designed and engineered to perform off-road, from singletrack to gravel roads and everything in between
For riders who know no borders. A true all-terrain, all-road cycling shoe designed with a more generous fit for endless comfort, from gravel tracks to MTB trails, all-day adventures to extended bikepacking escapes.
The new Atlas is designed to efficiently spin pedals off-road, equally capable of handling fast and fun downcountry laps, epic all-mountain rides, long-distance backcountry adventures and drop bar gravel grinding.
The result of countless refinements based on thousands of miles of feedback from riders taking on every possible type of terrainWell-ventilated without sacrificing protection thanks to a TPU overlay that reinforces the toecapEasily adjusted with a practical, single-BOA closureEquipped with generous studs and a rubber coating that covers the entire surface, including the mid-foot, the X5 outsole provides sure footingHidden nylon foot plate delivers balanced stiffness for pedalling efficiencyLow-cut uppers allow for smooth, rub-free ankle movement throughout every pedal strokeWeight: 355g
SHOE SIZE CHART:
https://bit.ly/FIzikShoeSizeChart
Product Details
Product name

Cycling shoes FIZIK Terra Atlas pink grape-black

Product code

SHOE202

Manufacturer

Barcode

8058364122755
Reviews about - Cycling shoes FIZIK Terra Atlas pink grape-black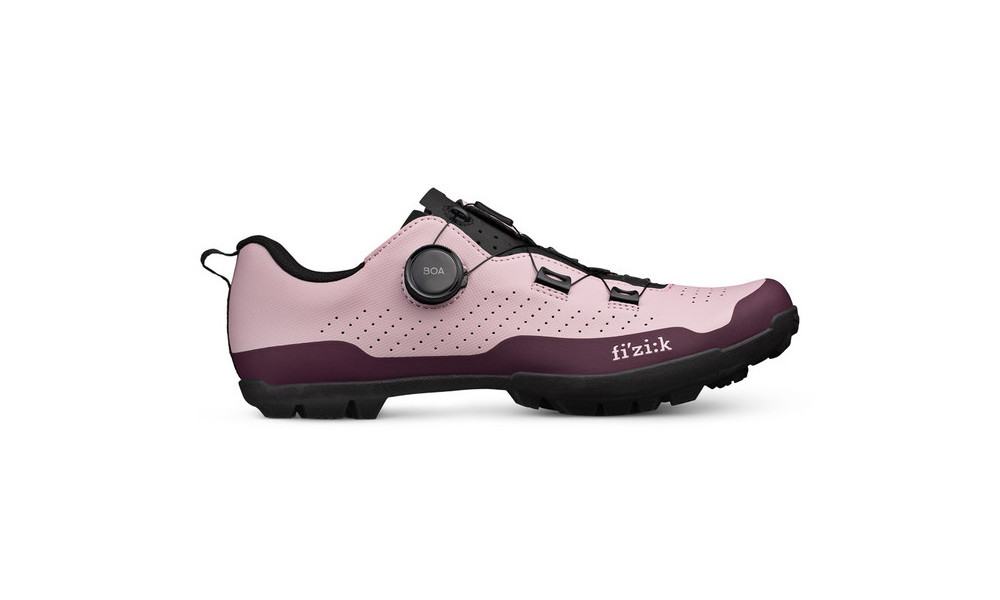 Cookies
In order to ensure the quality of your browsing, this website uses cookies for statistical and marketing purposes . By clicking the "Accept" button or continuing to browse, you confirm your consent to the saving of cookies. You can withdraw your consent at any time by changing your internet browser settings and deleting saved cookies. More information
Targeted cookies
Third party cookies used for analytics purposes.
Also, these cookies are used to present customized advertisements to you. They limit ads so that you only see them a certain number of times and help us measure the effectiveness of our advertising campaigns.
Functionality cookies (essential)
Necessary for browsing the website and using its functions.
Improve your browsing experience by remembering previously made settings and choices.