LT

Your shopping cart is empty.
Welcome to BIKKO International bicycle internet shop
Please select your country of residence
You can change the selection afterwards in the top right corner.
Please note: if you are from Estonia, Finland, Latvia, or Lithuania you will be redirected to local dedicated bicycle internet shop.
Bicycle preparation options
Description - Cycling shoes Northwave Revolution 3 Road black-iridescent
The exclusive Anatomical Arch Support made of TPU, allows the shoe to perfectly shape on the bow arch, making it the ideal sole for any type of foot Speedplay adapter compatible for the lowest stack height between foot and pedal MORPH CARBON 12 AAS SOLE: with full-carbon insert in the pedal area with a stiffness index of 12.0. X-DIAL SLW3 CLOSING SYSTEM: Differentiates the pressure between the top of the instep and the toe for even better adaptability. The only one closure system that offers step by step and full opening release with just 1 single trigger. It allows to distribute the pressure along the entire surface, eliminating hotspots and provide glove-like fit. Ultra-fast: you can tighten or loosen the shoe in a flash. Pull to release: pull the button to instantly undo the shoe completelyINTEGRATED HEEL SYSTEM: contains directional fibre prevents any slippingWeight: 280 gSHOE SIZE CHART: https://bit.ly/3uGmAll
Product Details
Product name

Cycling shoes Northwave Revolution 3 Road black-iridescent

Product code

80221012-BLK-IRD-36

Manufacturer

Barcode

8030819232677

Type

Man
Unisex
More
Less
Reviews about - Cycling shoes Northwave Revolution 3 Road black-iridescent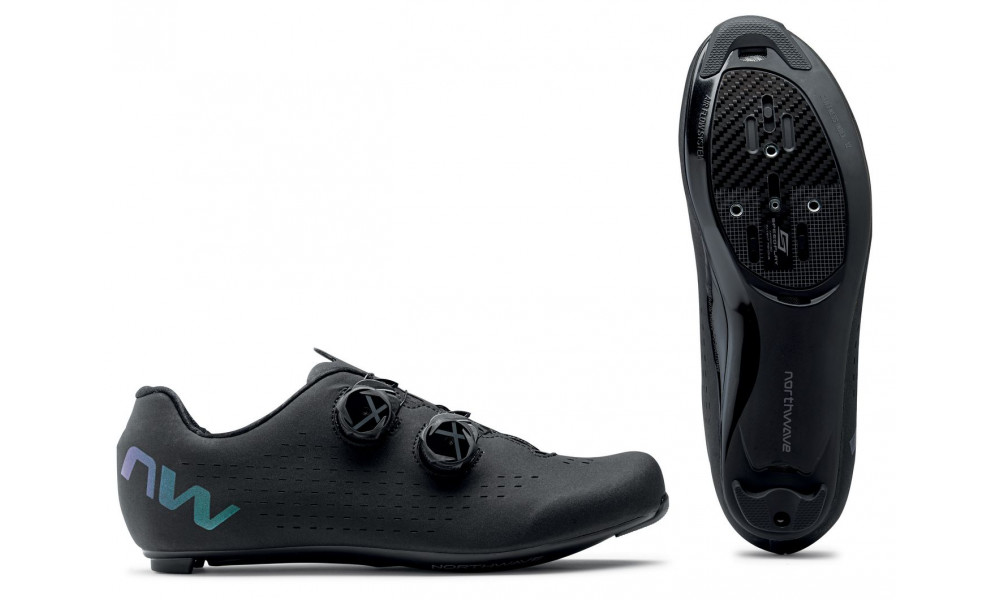 Cookies
In order to ensure the quality of your browsing, this website uses cookies for statistical and marketing purposes . By clicking the "Accept" button or continuing to browse, you confirm your consent to the saving of cookies. You can withdraw your consent at any time by changing your internet browser settings and deleting saved cookies. More information
Targeted cookies
Third party cookies used for analytics purposes.
Also, these cookies are used to present customized advertisements to you. They limit ads so that you only see them a certain number of times and help us measure the effectiveness of our advertising campaigns.
Functionality cookies (essential)
Necessary for browsing the website and using its functions.
Improve your browsing experience by remembering previously made settings and choices.