LT

Your shopping cart is empty.
Welcome to BIKKO International bicycle internet shop
Please select your country of residence
You can change the selection afterwards in the top right corner.
Please note: if you are from Estonia, Finland, Latvia, or Lithuania you will be redirected to local dedicated bicycle internet shop.
Bicycle preparation options
Description - Shoes Shimano SH-CT500 City black
Shimano CT series is designed for daily commutes, leisure cycling. A unique and versatile cycling shoe cleverly disguised as an urban sneaker. Shoes are are compatible botch with standard SPD and easy to use CLICK'R pedals.
Casual sneaker-style design for everyday cycling lifeHidden inner shank plate transfers power to the pedalsShock absorbing EVA mid sole maximizes walking comfortEasy cleat installationOptimized for SPD and SHIMANO CLICK'R pedal systems
Stiffness level. You can find more information on stifness levels by clicking this link:
>STIFFNESS LEVEL CHART<
Synthetic leather upperE-BIKE RATED Closure: shoe laceOutsole material: Rubber+EVA+NylonStandard insole: CT insoleWeight: (Size: 42) ~ 342 g
IMPORTANT:
Please note that Shimano shoes may be 1-2 size smaller than your casual shoes. Please correctly measure your foot length and refer to this Shimano size chart before buying:
SIZE CHART LINK
Compatible with Shimano SPD clipless pedal system

With Shimano CLICK'R it is easier to step in and step out. Ideal for recreational and city cyclists.
Product Details
Product name

Shoes Shimano SH-CT500 City black

Product code

ESHCT5PG410SL00

Manufacturer

Barcode

4524667694786
Reviews about - Shoes Shimano SH-CT500 City black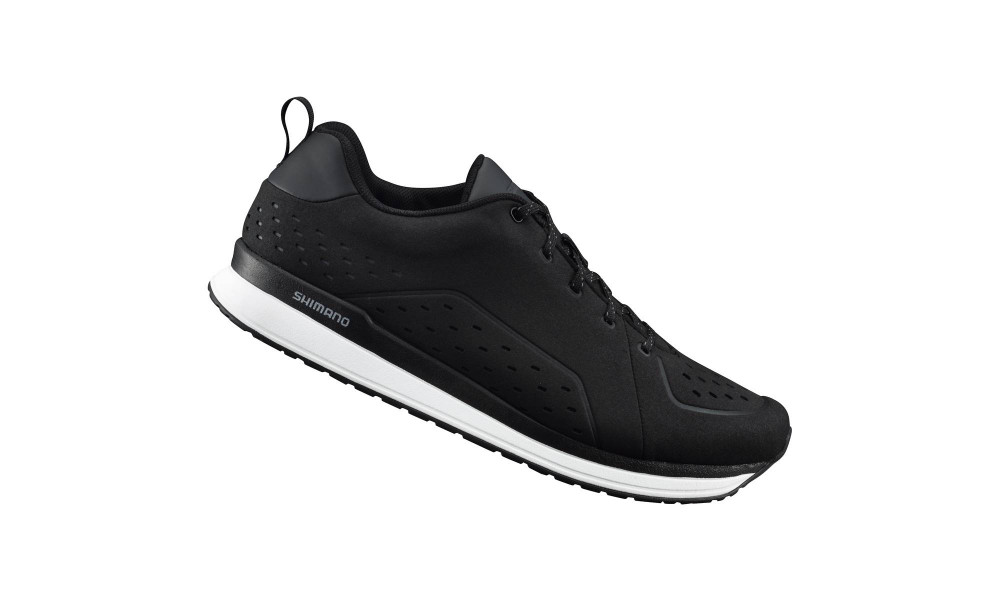 Cookies
In order to ensure the quality of your browsing, this website uses cookies for statistical and marketing purposes . By clicking the "Accept" button or continuing to browse, you confirm your consent to the saving of cookies. You can withdraw your consent at any time by changing your internet browser settings and deleting saved cookies. More information
Targeted cookies
Third party cookies used for analytics purposes.
Also, these cookies are used to present customized advertisements to you. They limit ads so that you only see them a certain number of times and help us measure the effectiveness of our advertising campaigns.
Functionality cookies (essential)
Necessary for browsing the website and using its functions.
Improve your browsing experience by remembering previously made settings and choices.