LT

Your shopping cart is empty.
Welcome to BIKKO International bicycle internet shop
Please select your country of residence
You can change the selection afterwards in the top right corner.
Please note: if you are from Estonia, Finland, Latvia, or Lithuania you will be redirected to local dedicated bicycle internet shop.
Bicycle preparation options
Description - Pedals Shimano XT PD-T8000 SPD + SM-SH56
The DEORE XT Trekking Pedals PD-T8000 offer wider and redesigned platform than previous models. The PD-T8000 features a dual-sided design for flexibility and performance with the addition of protruding pins for extra grip on the flat side. These pedals has the durability for daily commuting and the reliability for long touring. Its versatile drivetrain and precise, stable performance in both off road and on road riding means it can be your trusted group for all your trekking needs.Flexibility and performance with two sidesEasy entry system with tension adjustment provides plenty of support and holds the cleat firmly in placeLow-maintenanceSPD has low profile platform height with large platform contact area for excellent support and stabilitySealed cartridge axle system for reliability and simplified low maintenanceType: SPD clipless/flatThread size: Standard (9/16")One side - SPD clip-in / Other side - FlatCleat retention adjusterCleats included: SM-SH56Optional cleats (NOT INCLUDED): SM-SH51Integrated reflectorsMaterial: Pedal body - Aluminum anodized, Pedal axle - Chromoly steelWeight: 392 g (pair)
Product Details
Product name

Pedals Shimano XT PD-T8000 SPD + SM-SH56

Product code

EPDT8000

Manufacturer

Barcode

4524667749493
Reviews about - Pedals Shimano XT PD-T8000 SPD + SM-SH56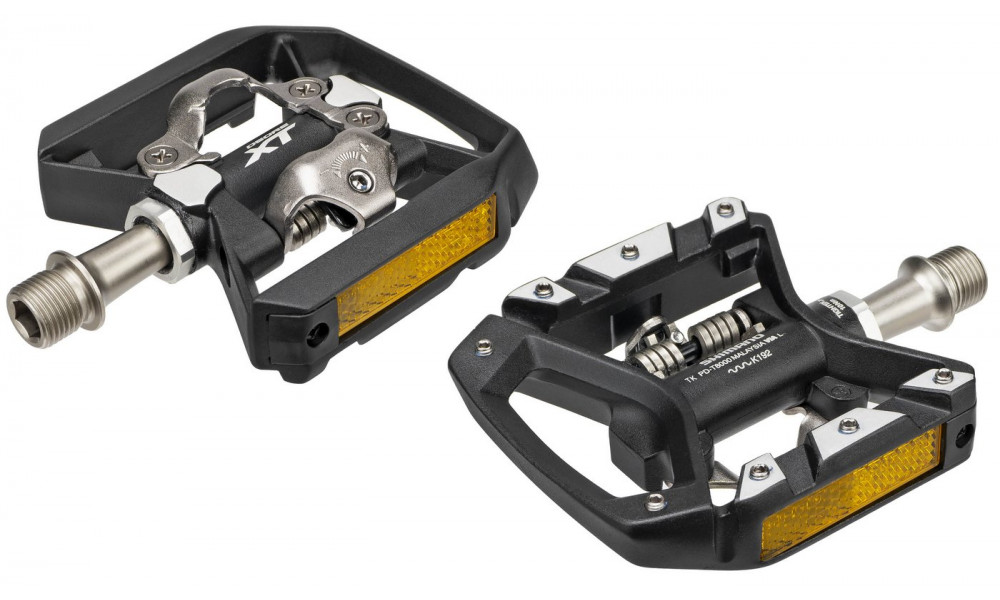 Cookies
In order to ensure the quality of your browsing, this website uses cookies for statistical and marketing purposes . By clicking the "Accept" button or continuing to browse, you confirm your consent to the saving of cookies. You can withdraw your consent at any time by changing your internet browser settings and deleting saved cookies. More information
Targeted cookies
Third party cookies used for analytics purposes.
Also, these cookies are used to present customized advertisements to you. They limit ads so that you only see them a certain number of times and help us measure the effectiveness of our advertising campaigns.
Functionality cookies (essential)
Necessary for browsing the website and using its functions.
Improve your browsing experience by remembering previously made settings and choices.