LT

Your shopping cart is empty.
Welcome to BIKKO International bicycle internet shop
Please select your country of residence
You can change the selection afterwards in the top right corner.
Please note: if you are from Estonia, Finland, Latvia, or Lithuania you will be redirected to local dedicated bicycle internet shop.
Bicycle preparation options
Description - Shifter Shimano XT SL-M8000 I-Spec II 11-speed
As arguably the most tactile part of Shimano's new DEORE XT M8000 groupset, the shifters play a vital aesthetic and ergonomic part. The dimpled long sweep paddle, grooved release paddle and OPTISLICK cable provide a 20% decrease in shift effort, crucial for the long distance endurance racer, and create an enhanced interface between rider and controls.The 2-Way Multi Release mechanism provides a secondary gear change option whilst an improved Vivid indexing mechanism guarantees shift accuracy. Two specs are available, I-Spec II (SL-M8000-I) for new XT and XTR and I-Spec B-type (SL-M8000-B-I) for older or lower grade brake levers, catering for different brake choices.This is the I-Spec II version. Only mountable on I-Spec II compatible brake levers! Not compatible with I-Spec A or I-Spec B.I-Spec II is a new integrated mounting system for brake and shifting levers. It just needs one bracket which saves space, provides a cleaner optic and saves about 10g of weight. Furthermore the adjustability in horizontal direction offers an optimized individual setup.Instant Release allows for quicker shifts, as it instantly releases the cable when the trigger is activated.Multi-Release allows shifting two gears at once in both directions.The levers are also equipped with 2-Way Release for different riding styles or shifting (indexfinger or thumb) from various riding positions. The upper lever still performs the same function, but now it swings both ways. Pull it with your finger or push it with your thumb - you choose.Material: aluminum, stainless steel, steel, GFRPWeight: approx. 230 gram (manufacturer information)Included in delivery: right and left lever with inner shifting cables and hosesVersion: 2-/3x11-speedColor: blackArt. Nr.: ISLM8000IRAP
Product Details
Product name

Shifter Shimano XT SL-M8000 I-Spec II 11-speed

Product code

ISLM8000IRAP

Manufacturer

Barcode

4524667354635
Reviews about - Shifter Shimano XT SL-M8000 I-Spec II 11-speed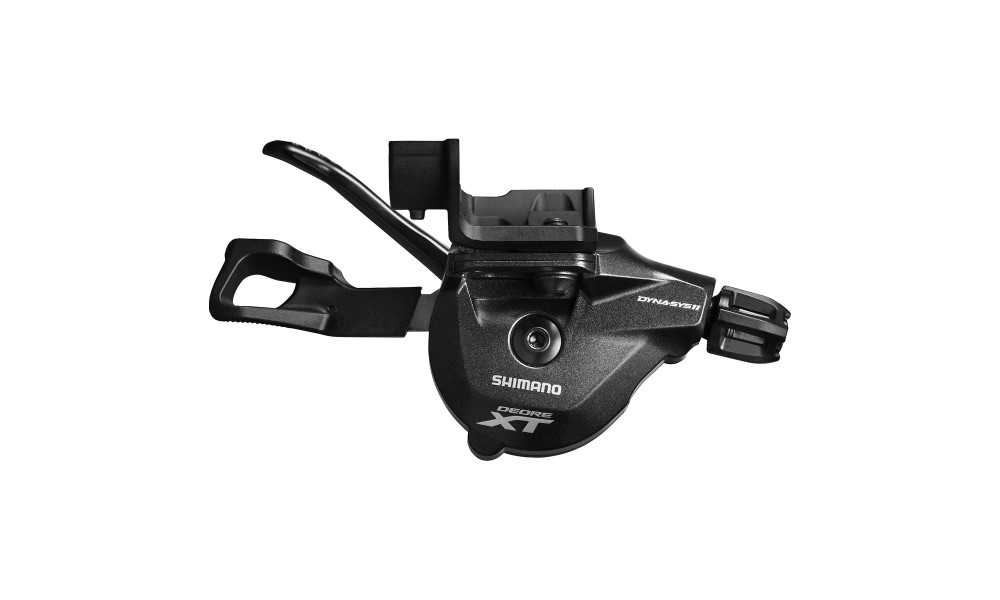 Cookies
In order to ensure the quality of your browsing, this website uses cookies for statistical and marketing purposes . By clicking the "Accept" button or continuing to browse, you confirm your consent to the saving of cookies. You can withdraw your consent at any time by changing your internet browser settings and deleting saved cookies. More information
Targeted cookies
Third party cookies used for analytics purposes.
Also, these cookies are used to present customized advertisements to you. They limit ads so that you only see them a certain number of times and help us measure the effectiveness of our advertising campaigns.
Functionality cookies (essential)
Necessary for browsing the website and using its functions.
Improve your browsing experience by remembering previously made settings and choices.