LT

Your shopping cart is empty.
Welcome to BIKKO International bicycle internet shop
Please select your country of residence
You can change the selection afterwards in the top right corner.
Please note: if you are from Estonia, Finland, Latvia, or Lithuania you will be redirected to local dedicated bicycle internet shop.
Bicycle preparation options
Description - Helmet Abus Youn-I 2.0 sparkling pink
The Youn-I 2.0 bike helmet offers the ideal combination of the best possible protection with maximum comfort for the young generation of cyclists. A modern and safe bike helmet that appeals to two generations at once. The Youn-I 2.0 model has enabled ABUS to bridge the gap between helmets for adults and helmets for young people. Adults are role models for children and should therefore also wear a bike helmet. This could prevent many of the serious brain injuries caused by cycling accidents. However, women with smaller heads often cannot find a helmet that fits them properly. With a simple but modern look, this bike helmet meets the needs of both young cyclists as well as many women with smaller heads. The Youn-I 2.0 boasts a simple, urban and fashionable look that appeals to both generations.
TechnologiesIn-Mold for a durable connection of the outer shell with shock-absorbing helmet material (EPS)Visor-like front edge ensuring enhanced protection for the faceDeep temple and neck area for increased all-round protectionLarge integrated rear LED light in a high position with 180° visibilityZoom Ace Evo – precise adjustment system with an easy-to-grip adjustment wheelSize adjustment with a full ring made from hard-wearing and mouldable plastic for optimum stability and form fittingExcellent ventilation with 8 air inlets and 9 air outlets that are connected by flow channelsFoamed-in fly netPassive safety thanks to reflectorsFor head size: 52-57 cm (M)Weight: 260 g
Product Details
Product name

Helmet Abus Youn-I 2.0 sparkling pink

Product code

HELM2389

Manufacturer

Barcode

4003318401657
Reviews about - Helmet Abus Youn-I 2.0 sparkling pink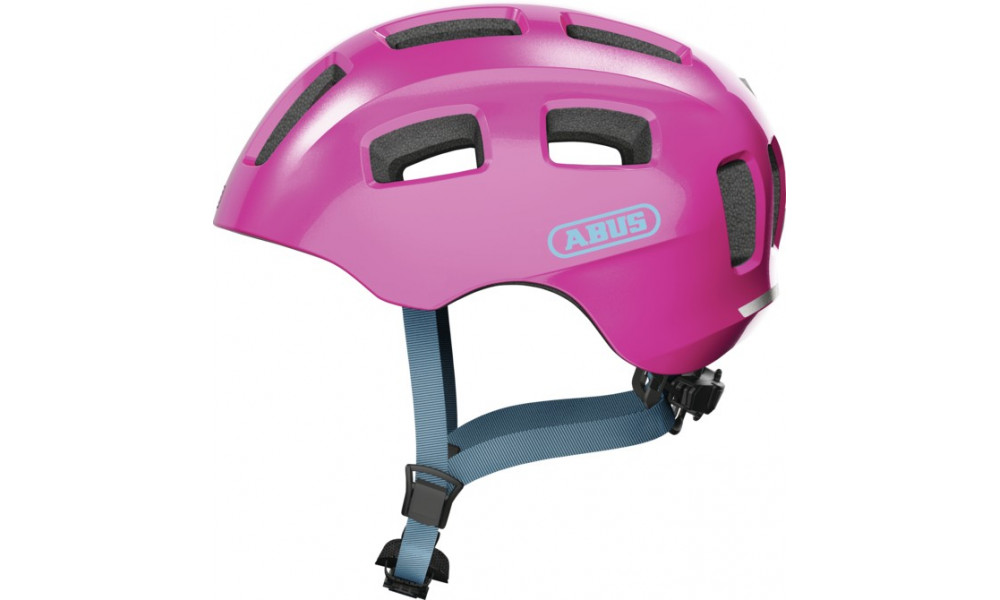 Cookies
In order to ensure the quality of your browsing, this website uses cookies for statistical and marketing purposes . By clicking the "Accept" button or continuing to browse, you confirm your consent to the saving of cookies. You can withdraw your consent at any time by changing your internet browser settings and deleting saved cookies. More information
Targeted cookies
Third party cookies used for analytics purposes.
Also, these cookies are used to present customized advertisements to you. They limit ads so that you only see them a certain number of times and help us measure the effectiveness of our advertising campaigns.
Functionality cookies (essential)
Necessary for browsing the website and using its functions.
Improve your browsing experience by remembering previously made settings and choices.