LT

Your shopping cart is empty.
Welcome to BIKKO International bicycle internet shop
Please select your country of residence
You can change the selection afterwards in the top right corner.
Please note: if you are from Estonia, Finland, Latvia, or Lithuania you will be redirected to local dedicated bicycle internet shop.
Bicycle preparation options
Description - Batai Shimano SH-TR900 TRIATHLON
Professional competition grade SH-TR900 triathlon shoes come with a distinctive, eye-catching and impressive design. The optimal alternative for triathletes, which search for the best combination of comfort and performance.Shimano SH-TR900 shoes are most suitable for TRIATHLONCompatible with all ROAD pedal systems, which use cleats with SPD-SL standard.Lightweight3D breathable mesh for optimal ventilationDYNALAST technology for more efficient and smoother pedalingThe upper is made of ultra-fine fiber synthetic Rovenica® leather and offer great wearing comfortLightweigt CARBON fiber composite sole with an adjustable cleat hole positionAnatomical toe cap with air intake maintains rigidity and breathabilityLightweight, super-stiff carbon fiber composite sole efficiently transfers powerDual Density Cup shaped insole serves to optimize the heel angle and ensure stability while pedaling. This insole is equipped with a hard, high-density, and highly durable EVA heel cup.Stiffness Grade (higher is stiffer): 10/12Wider cleat adjustment range for the ideal shoe-pedal fitAsymmetrical heel loop to quickly secure the shoe during transitionsT1-Quick strap and extra-wide collar simplifies foot entry and quickens transitionsWeight: 502 g (per pair of size 40)Recommended to use with pedals: PD-R9100Please note: Shimano shoes are quite small. It is strongly recommended to take one size larger than your usual shoe size.Cleats not included
Product Details
Product name

Batai Shimano SH-TR900 TRIATHLON

Product code

ESHTR9NC420SB00

Manufacturer

Barcode
Reviews about - Batai Shimano SH-TR900 TRIATHLON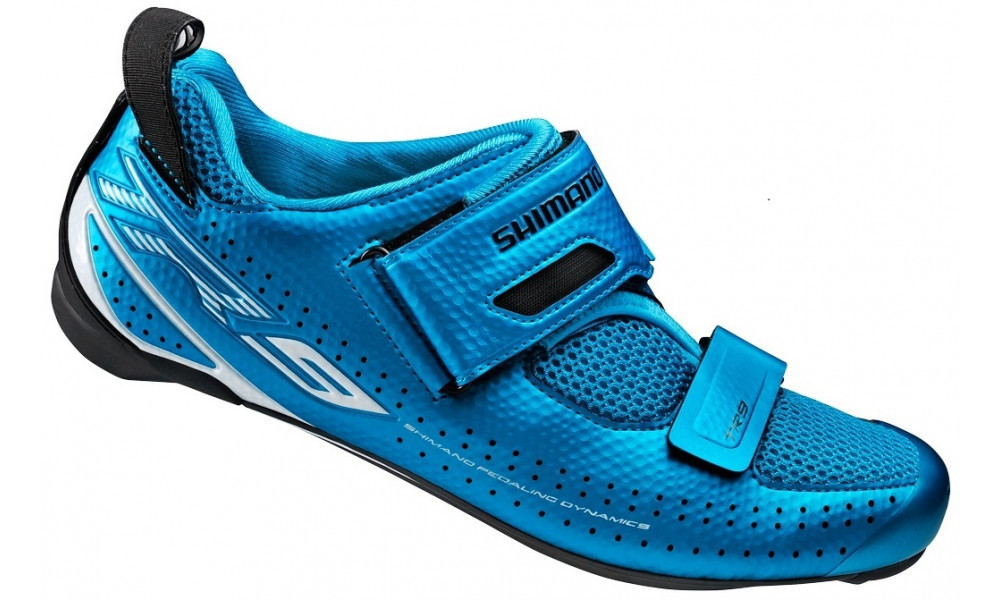 Cookies
In order to ensure the quality of your browsing, this website uses cookies for statistical and marketing purposes . By clicking the "Accept" button or continuing to browse, you confirm your consent to the saving of cookies. You can withdraw your consent at any time by changing your internet browser settings and deleting saved cookies. More information
Targeted cookies
Third party cookies used for analytics purposes.
Also, these cookies are used to present customized advertisements to you. They limit ads so that you only see them a certain number of times and help us measure the effectiveness of our advertising campaigns.
Functionality cookies (essential)
Necessary for browsing the website and using its functions.
Improve your browsing experience by remembering previously made settings and choices.