Description - Scooter Kidz Motion Rapid blue
KIDZ MOTION Rapid scooter is designed for children above 3 years old. Ideal for playing with friends or can be used for transportation to school or kindergarten.Made of quality stainless steel and fiber glassStainless steel front handlebar tube - metallic layer protects damageEasily foldable frame for convienient transportation and storageHigh stability is ensured due to 2 wheels in front and 5cm width wheel in rearSafe and easy turning mechanism – just lean to the side you want to turnAdjustable handlebar height from 73 to 81 cm (3 different levels: 73cm, 77cm and 81 cm)Precise ABEC-5 quality machinery ball bearings for smooth and silent riding120mm diameter front wheels made of high quality polyurethane100mm diameter rear wheels made of high quality polyurethaneRear mudguard not only protects from dirt and water, but is used as a foot breakMaximum load: 65 kgSIZE (Length x Width x Height): 56 x 27 x 82 cmWeight: 3 KgComfortable profiled grips with safety endsAnti-slip platformThe product meets the requirements of EN 14619 safety standard for kick scooters.
Product Details
Product name

Scooter Kidz Motion Rapid blue

Product code

KDZ19018

Manufacturer

Barcode

5905279567139

Type

Unisex

Frame material

Steel

Front suspension

No

Rear suspension

No

Disc brakes

No

Year

2019
More
Less
Bicycle preparation options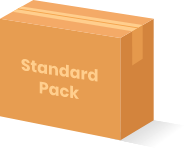 Manufacturer's packaging
You will need to prepare the bicycle for riding yourself -
Free
/ Delivery time 5-10 business days
The bicycle is sent in the original manufacturer's packaging (usually with the front wheel, handlebar, and saddle removed), which ensures the safety of the items during storage and transportation. When purchasing of a bicycle in such a packaging, the Buyer himself or his chosen bicycle mechanic must properly prepare it for use - assemble, tighten, and adjust it.
Reviews about - Scooter Kidz Motion Rapid blue