LT

Your shopping cart is empty.
Welcome to BIKKO International bicycle internet shop
Please select your country of residence
You can change the selection afterwards in the top right corner.
Please note: if you are from Estonia, Finland, Latvia, or Lithuania you will be redirected to local dedicated bicycle internet shop.
Bicycle preparation options
Description - Klossit Shimano SPD SM-SH56
Small details make a big difference—especially when it comes to mountain biking. Worn out cleats can lead to poor pedal function including premature or stubborn release. But swap on a new set of Shimano SM-SH56 Cleats and you know they're purpose built to work seamlessly with nearly all Shimano SPD Pedals, delivering long lasting performance thanks to their heat treated forged steel construction that will stand up to even the harshest riding conditions. Whether you're new to clipless pedals or have a limited range of knee mobility, Shimano's SM-SH56 SPD Multi-Release Cleat is a great choice. Featuring a 13-degree clip-out angle and multi-release functionality that allows you to clip out of your pedals by twisting your foot in either direction or by lifting and twisting your heel, these cleats make it easy to quickly get out of your pedals when the need arises.
Reliable and Durable 2-Bolt Cleat
Multi-way release
Go-to choice for beginner mountain bikers, indoor cyclists, and anyone looking for a durable and reliable 2-bolt cleat.
Customizable: Engineered specifically to work with nearly all Shimano SPD pedals, which allow you to micro-adjust the spring force required to clip in and out of your pedals
Secure Engagement: Deliver 4 degrees of float, which assures just the right amount of movement while also providing a secure connection to your bike
Ease of Disengagement: Feature a 13-degree clip-out angle, allowing you to quickly get out of your pedals when the need arises
Built to Last: Made from heat treated forged steel that delivers durable long lasting performance even under the most severe riding conditions
Pair (for one set of pedals)
Product Details
Product name

Klossit Shimano SPD SM-SH56

Product code

ISMSH56

Manufacturer

Barcode

4550170646998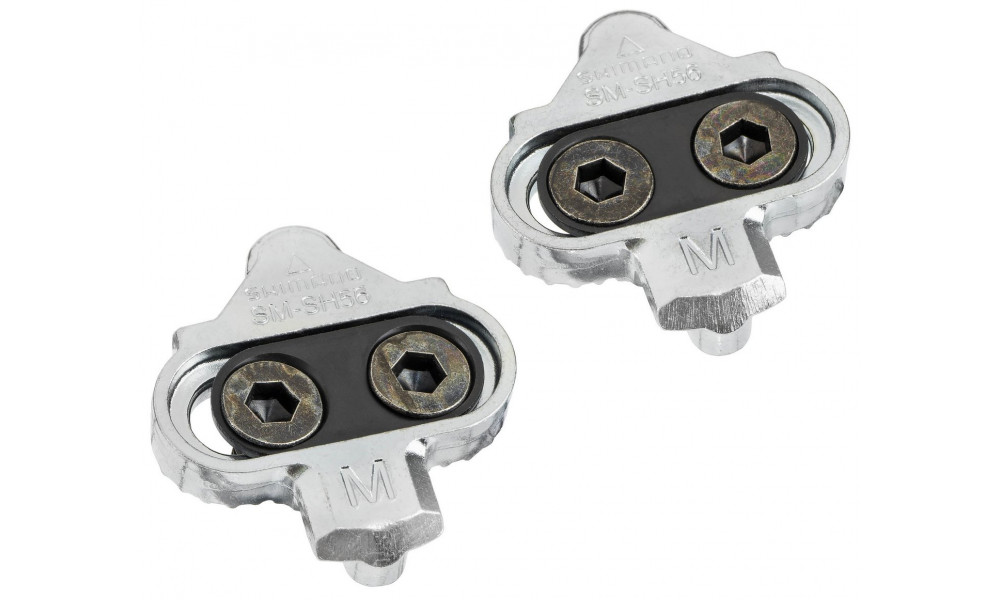 Cookies
In order to ensure the quality of your browsing, this website uses cookies for statistical and marketing purposes . By clicking the "Accept" button or continuing to browse, you confirm your consent to the saving of cookies. You can withdraw your consent at any time by changing your internet browser settings and deleting saved cookies. More information
Targeted cookies
Third party cookies used for analytics purposes.
Also, these cookies are used to present customized advertisements to you. They limit ads so that you only see them a certain number of times and help us measure the effectiveness of our advertising campaigns.
Functionality cookies (essential)
Necessary for browsing the website and using its functions.
Improve your browsing experience by remembering previously made settings and choices.