LT

Your shopping cart is empty.
Welcome to BIKKO International bicycle internet shop
Please select your country of residence
You can change the selection afterwards in the top right corner.
Please note: if you are from Estonia, Finland, Latvia, or Lithuania you will be redirected to local dedicated bicycle internet shop.
Bicycle preparation options
Saddle Fizik Terra Argo TEST
Description - Saddle Fizik Terra Argo TEST
IMPORTANT: THIS IS FOR SADDLE TESTING PURPOSES ONLY!
Model has TEST words on top of the cover PLEASE CONTACT US IN ADVANCE BEFORE PURCHASE!
The Fizik Terra Argo X5 with Aluminium rail is a gravel-specific saddle with a short-nosed design and generous ischial support that encourages stability. Where a traditional saddle shape encourages riders to shift their position frequently for better leverage, Argo puts the rider in a more planted position, making for greater stability and better weight distribution. Terra Argo's short length allows the rider to sit further forward without placing undue pressure on sensitive tissues. It also features an ergonomic cutout that was developed using detailed pressure analysis and input from medical experts.
Argo: Versatile short nose saddle that encourages stability and reliefs pressure on soft tissue area
X5: A combination of a ride compliant, carbonreinforced nylon shell and a S-Alloy rail
Mobius Rail: Closed loop design for added strength and weight distribution
Wingflex: The shell's side edges flex and adapt to rider's inner legs movement
Type 2 foam: Progressive cushioning, with lower compression modulus
Terra: All-terrain series designed to take you beyond your boundaries
Use: Gravel
Gender: Men
Rails: 7mm
Width: 270 mm
Length (Optional): 150mm or 160mm
Material: carbon fibre reinforced nylon shell, S-alloy frame
Cover: Microtex
Padding: Foam (Typ 2)
Weight: 250g (150mm) / 257g (160mm)
TECHNOLOGY
WING FLEX shell has engineered flexibility along the edges where the inner thighs contact the saddle. By allowing this area to flex, the rider can achieve a full range of leg movement in a wide range of riding positions. Wing Flex allows the saddle to adapt to the rider rather than the rider having to get used to the saddle.
Product Details
Product name

Saddle Fizik Terra Argo TEST

Product code

SADL419

Manufacturer

Barcode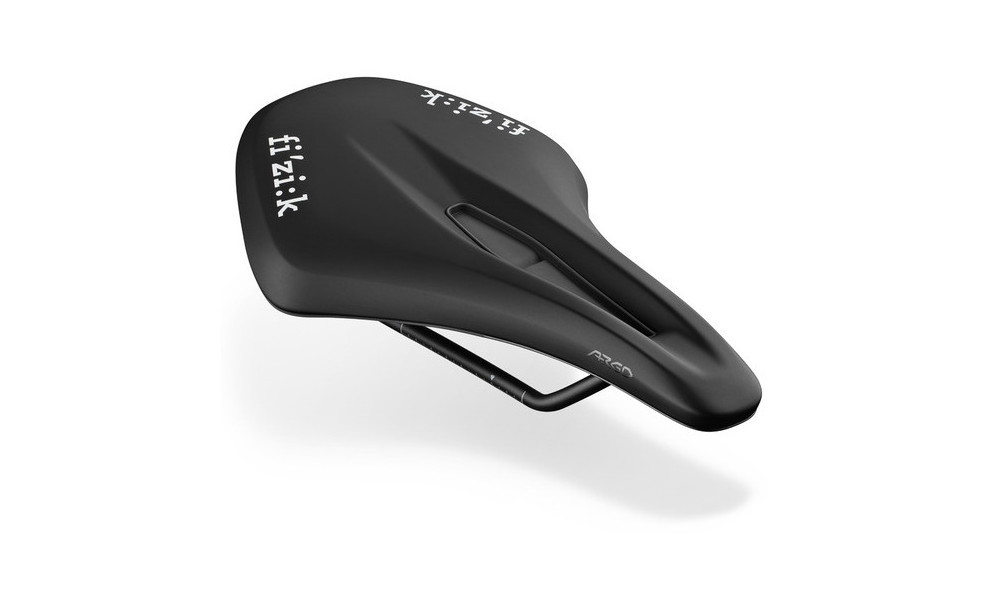 Cookies
In order to ensure the quality of your browsing, this website uses cookies for statistical and marketing purposes . By clicking the "Accept" button or continuing to browse, you confirm your consent to the saving of cookies. You can withdraw your consent at any time by changing your internet browser settings and deleting saved cookies. More information
Targeted cookies
Third party cookies used for analytics purposes.
Also, these cookies are used to present customized advertisements to you. They limit ads so that you only see them a certain number of times and help us measure the effectiveness of our advertising campaigns.
Functionality cookies (essential)
Necessary for browsing the website and using its functions.
Improve your browsing experience by remembering previously made settings and choices.