LT

Your shopping cart is empty.
Welcome to BIKKO International bicycle internet shop
Please select your country of residence
You can change the selection afterwards in the top right corner.
Please note: if you are from Estonia, Finland, Latvia, or Lithuania you will be redirected to local dedicated bicycle internet shop.
Bicycle preparation options
Saddle Fizik Vento Antares R3
Description - Saddle Fizik Vento Antares R3
Fizik- no matter whether you challenge yourself or other riders, or whether you're a pro-rider or an amateur, if you're searching for the most beautiful and best performing cycling gear, fizik is the answer.
Fizik Vento Antares R3 - your ultimate companion for premium road bike performance. With its low profile, a carbon reinforced nylon shell and Kium rails, this saddle offers the ideal balance between weight, versatility and performance. Whether on long distances or intense sprints, the Vento Antares R3 delivers impressive performance in every riding situation.
Antares: Low-profile performance saddle designed to allow a more connected feeling for optimal pedaling efficiency and power transfer
R3: Combination of a ride-compliant, carbon-reinforced nylon shell and a Kium hollow rail with high strength-to-weight ratio
Wingflex: The shell's side edges flex and adapt to the rider's inner leg movement
Double-Density Foam: Firmer on the ischial bones, softer on the nose, for optimal comfort in every riding position
Use: Road bike
Rail: 7 x 7 mm
Width: 268 mm
Length (OPTIONAL): 140 mm or 150 mm
Material Shell: Carbon reinforced nylon, Rail: Kium
Padding: Double-Density Foam
Weight: 140mm: 195 g, 150mm: 202 g
TECHNOLOGY
K:IUM - Is the combination of a specific metal alloy, a special tube design and a special finishing process that increases the fatigue properties on the rail surface.
Product Details
Product name

Saddle Fizik Vento Antares R3

Product code

SADL423

Manufacturer

Barcode

8021890580207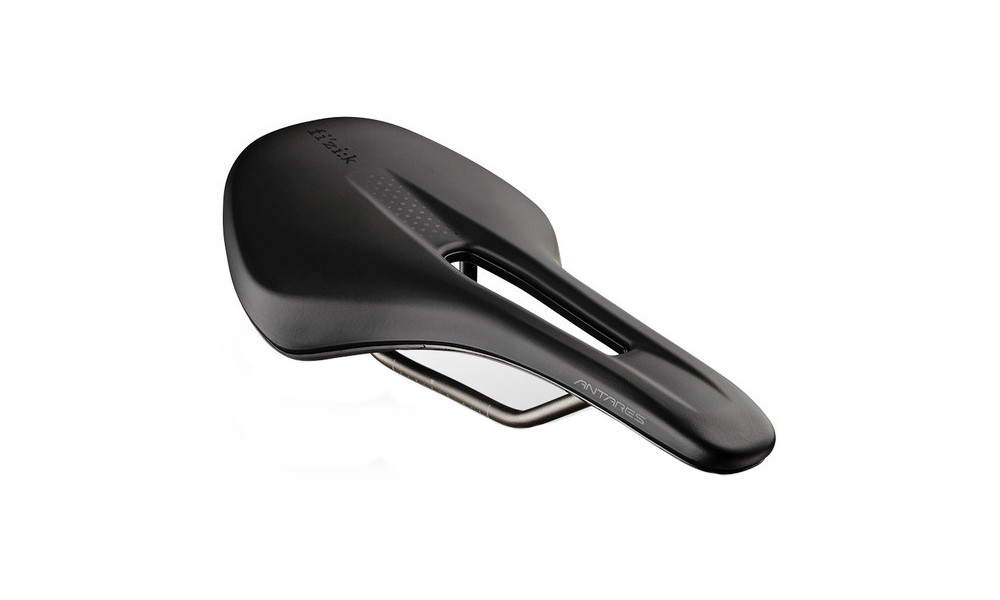 Cookies
In order to ensure the quality of your browsing, this website uses cookies for statistical and marketing purposes . By clicking the "Accept" button or continuing to browse, you confirm your consent to the saving of cookies. You can withdraw your consent at any time by changing your internet browser settings and deleting saved cookies. More information
Targeted cookies
Third party cookies used for analytics purposes.
Also, these cookies are used to present customized advertisements to you. They limit ads so that you only see them a certain number of times and help us measure the effectiveness of our advertising campaigns.
Functionality cookies (essential)
Necessary for browsing the website and using its functions.
Improve your browsing experience by remembering previously made settings and choices.