LT

Your shopping cart is empty.
Welcome to BIKKO International bicycle internet shop
Please select your country of residence
You can change the selection afterwards in the top right corner.
Please note: if you are from Estonia, Finland, Latvia, or Lithuania you will be redirected to local dedicated bicycle internet shop.
Bicycle preparation options
Description - Shifter Shimano SORA ST-R3000 2-speed
When ranking Shimano's road groupsets for beginners, or better said in the middle class sector, Sora was developed for fitness and hobby orientated riders. With its durability as well as the attractive price, ambitious road cyclists also use it on winter training bikes and commuters for the ride to work the whole year around. Beginners and experienced riders using the 2-speed Sora R3000 have the advantage of numerous features and technologies that were first introduced in the top groupsets of Shimano a few years ago.Gearing: 2-speed (LEFT)Type: dual control (STI)Shift Lever: mechanicalBrake Lever: mechanicalLever Material: aluminium, paintedHandlebar Diameter: 23.8 – 24.2 mmShifter Cable: stainless steel (Optislick)Recommended Cable Housing: OT-SP41Reach Adjust: yes (bolt)Gear Indicator: noTechnology: New Super SLR, DCLTechnology:New Super SLRSLR stands for Shimano Linear Response. The New Super SLR design makes use of a friction-reducing mechanism in the calliper, lever and cable that improve response and modulation.Also for the lever, the Servo Wave mechanism had been adopted to provide quick contact between shoe and rim as well as longer stroke before the initial braking effect for better control.SRL is the essential factor in the Shimano Dual-Pivot calliper that delivers more braking power than conventional side pull brakes.DCLDCL stands for dual control lever. It has brake and shifting functions in the system and enables easy operation. Ergonomic innovation is probably more critical to the high standard performance than the added gearing. The shift internals borrow the robustness from the MTB technology and are so smooth, that effortless one finger shifts front and rear are possible. Indeed, shifting is the ultimate act of Shimano total integration, and simply has to be experienced to be understood.Art. Nr.: ESTR3000LIA
Product Details
Product name

Shifter Shimano SORA ST-R3000 2-speed

Product code

ESTR3000LIA

Manufacturer

Barcode

4524667401438
Reviews about - Shifter Shimano SORA ST-R3000 2-speed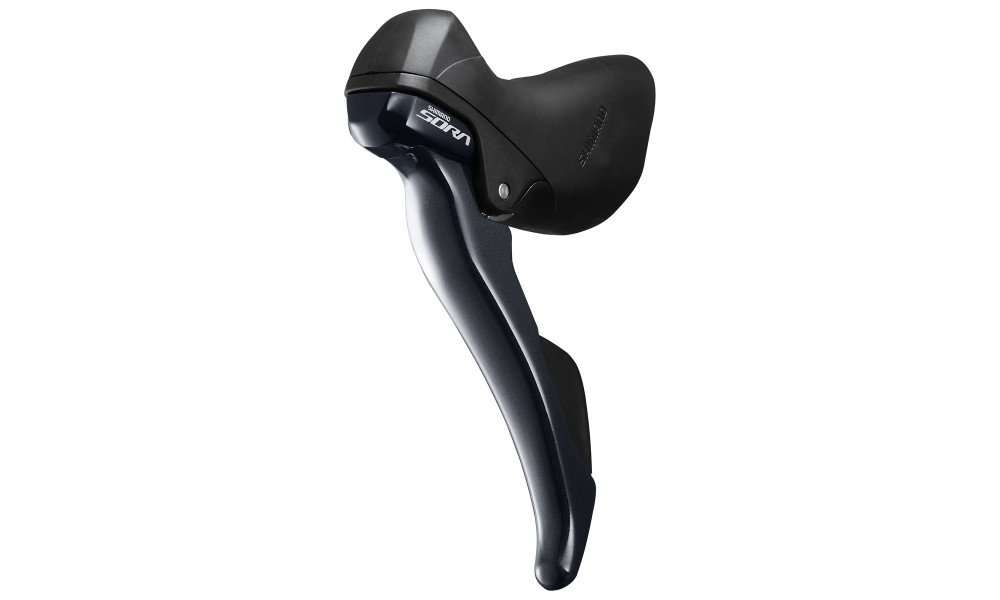 Cookies
In order to ensure the quality of your browsing, this website uses cookies for statistical and marketing purposes . By clicking the "Accept" button or continuing to browse, you confirm your consent to the saving of cookies. You can withdraw your consent at any time by changing your internet browser settings and deleting saved cookies. More information
Targeted cookies
Third party cookies used for analytics purposes.
Also, these cookies are used to present customized advertisements to you. They limit ads so that you only see them a certain number of times and help us measure the effectiveness of our advertising campaigns.
Functionality cookies (essential)
Necessary for browsing the website and using its functions.
Improve your browsing experience by remembering previously made settings and choices.